My Blog
Posts for: February, 2018
By The Tooth Shop on 46
February 16, 2018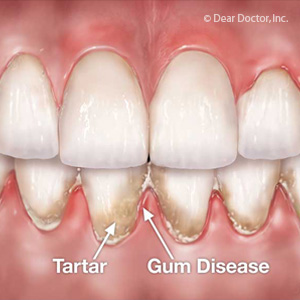 Your smile isn't the same without healthy gums—neither are your teeth, for that matter. So, maintaining your gums by protecting them from periodontal (gum) disease is a top priority.
Gum disease is caused by bacterial plaque, a thin biofilm that collects on teeth and is not removed due to poor oral hygiene practices. Infected gums become chronically inflamed and begin to weaken, ultimately losing their firm attachment to the teeth. This can result in increasing voids called periodontal pockets that fill with infection. The gums can also shrink back (recede), exposing the tooth roots to further infection.
Although gum disease treatment techniques vary, the overall goal is the same: remove the bacterial plaque fueling the infection. This most often involves a procedure called scaling with special hand instruments to manually remove plaque and calculus (tartar). If the infection has spread below the gum line we may need to use a procedure called root planing in which we scrape or "plane" plaque and calculus from the root surfaces.
As we remove plaque, the gums become less inflamed. As the inflammation subsides we often discover more plaque and calculus, requiring more treatment sessions. Hopefully, our efforts bring the disease under control and restorative healing to the gums.
But while gum tissue can regenerate on its own, it may need some assistance if the recession was severe. This assistance can be provided through surgical procedures that graft donor tissues to the recession site. There are a number of microsurgical approaches that are all quite intricate to perform, and will usually require a periodontist (a specialist in gum structures) to achieve the most functional and attractive result.
While we have the advanced techniques and equipment to treat and repair gum disease damage, the best approach is to try to prevent the disease from occurring at all. Prevention begins with daily brushing and flossing, and continues with regular dental cleanings and checkups.
And if you do notice potential signs of gum disease like swollen, reddened or bleeding gums, call us promptly for an examination. The sooner we diagnose and begin treatment the less damage this progressive disease can do to your gums—and your smile.
If you would like more information on protecting your gums, please contact us or schedule an appointment for a consultation. You can also learn more about this topic by reading the Dear Doctor article "Periodontal Plastic Surgery."
By The Tooth Shop on 46
February 01, 2018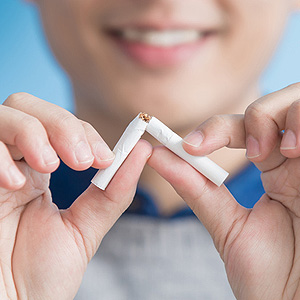 If you smoke, you know better than anyone how a hard a habit it is to kick. If you want to quit, it helps to have a motivating reason—like lowering your risk for cancer, cardiovascular disease or similar conditions.
Here's another reason for quitting tobacco: it could be making your teeth and gums less healthy. And, if you're facing a restoration like dental implants, smoking can make that process harder or even increase the risk of failure.
So, to give your willpower some needed pep talk material, here are 3 reasons why smoking doesn't mix with dental implants.
Inhaled smoke damages mouth tissues. Though you may not realize it, the smoke from your cigarette or cigar is hot enough to burn the top layer of skin cells in your mouth, which then thickens them. This could affect your salivary glands causing them to produce less saliva, which in turn could set off a chain of events that increases your risk of tooth decay or periodontal (gum) disease. The end result might be bone loss, which could make installing dental implants difficult if not impossible.
Nicotine restricts healthy blood flow. Nicotine, the chemical tobacco users crave, can restrict blood flow in the tiny vessels that course through the mouth membranes and gums. With less blood flow, these tissues may not receive enough antibodies to fight infection and fully facilitate healing, which could interfere with the integration of bone and implants that create their durable hold. Slower healing, as well as the increased chances of infection, could interrupt this integration process.
Smoking contributes to other diseases that impact oral health. Smoking's direct effect on the mouth isn't the only impact it could have on your oral health. As is well known, tobacco use can increase the risk of systemic conditions like cardiovascular and lung disease, and cancer. These conditions may also trigger inflammation—and a number of studies are showing this triggered inflammatory response could also affect your body's ability to fight bacterial infections in the mouth. Less healthy teeth, gums and underlying bone work against your chances of long-term success with implants.
If you would like more information on dental implants, please contact us or schedule an appointment for a consultation. You can also learn more about this topic by reading the Dear Doctor magazine article "Dental Implants & Smoking: What are the Risks?"